Positive test results for marijuana have continued to increase in all states as the states that have legalized marijuana continue to grow more than they consume and ship the rest to other states. In the general workforce, marijuana positivity increased 4% from last year while it increased nearly 8% in the safety-sensitive workforce.
Positive rates for marijuana in the U.S. work force saw the sharpest increases in states that have newly liberalized marijuana laws since 2016: Nevada (43%), Massachusetts (14%) and California (11%). This follows the same pattern seen in Colorado and Washington.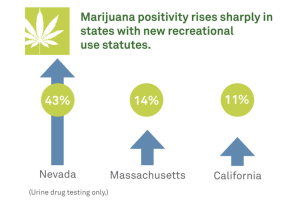 These same states also saw sharp increases in positivity rates for federally-mandated, safety-sensitive workers: Nevada increased by 39%, California by 20%, and Massachusetts by 11%.
Federal law currently requires the drug testing of workers whose work has an impact on the safety of the general public, including airline pilots; rail, bus, and truck drivers; and workers in nuclear power plants. The alarming rise in positivity rates among these occupations raises the risk for future problems such as crashes, among many other tragic circumstances.
These results continue a five-year upward trajectory in marijuana positivity for the U.S. workforce.
"This data is indeed troubling, but it is not surprising," said Smart Approaches to Marijuana founder and president Dr. Kevin Sabet. "This data mirrors the results we saw when Colorado and Washington legalized marijuana and are numbers we can expect to see any time a state foolishly follows their example. Do we want our pilots, doctors, and truck drivers stoned? We have to slow down this reckless experiment of pot legalization," continued Sabet.
[Alexandria, VA] – According to a new study by Quest Diagnostics, one of the leading drug testing and analysis organizations in the country, drug use in the U.S. workforce is at the highest levels it has been in the last decade, driven in large part by states that have legalized the sale of marijuana. Disturbingly, the greatest increase was found in safety-sensitive professions, such as airline pilots and workers in nuclear power plants.