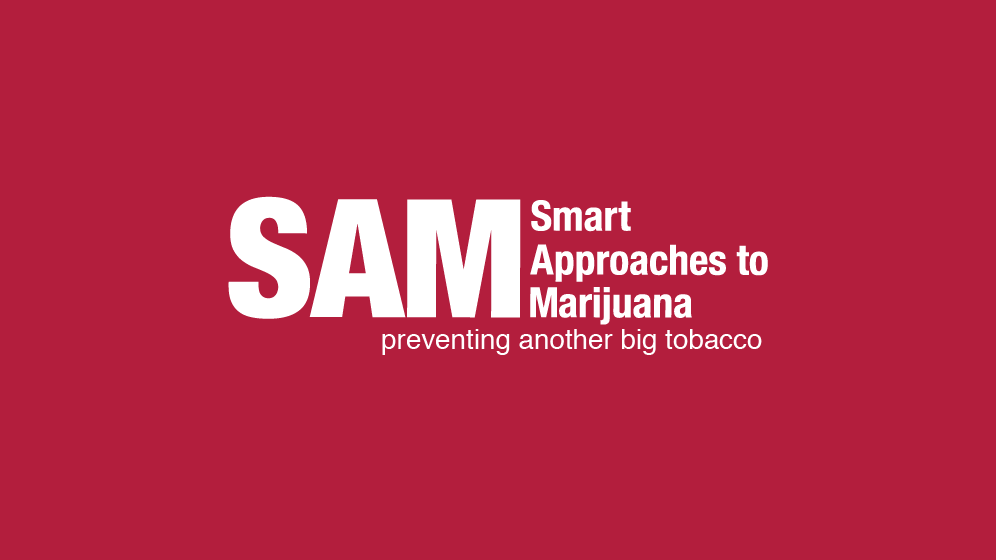 Today, Smart Approaches to Marijuana (SAM), the leading national non-profit group dedicated to opposing the commercial, addiction-for-profit marijuana industry, announced the expansion of its efforts to assist local communities in pushing back against marijuana commercialization. SAM's "Towns and Cities Initiative" will help localities opt-out of marijuana stores, assist with complex legal and zoning issues, and other campaigns. To start this initiative, SAM is launching efforts today in various cities in Illinois, Michigan, and California.
Specifically, SAM is launching radio and digital advertisements in Decatur and Highland Park, Illinois, as well as assisting opt-out efforts in towns across Michigan and California. In addition, SAM has published and distributed a free local control toolkit to give residents support in interacting with their city councilmembers, organizing "opt-out" ballot initiatives, or otherwise placing restrictions on advertising or zoning of retail marijuana stores within town limits.
"The anti-tobacco movement started at the local level decades ago, so it follows that localities are vital in the struggle against commercial marijuana. As it stands, the majority of localities in 'legal' states have rejected pot shops across the board," said Dr. Kevin Sabet, president of SAM and a former senior drug policy advisor to the Obama Administration. "Some 60 communities in Illinois have chosen to ban pot shops from setting up in their neighborhoods, joining the majority of Michigan, Colorado, California, and Massachusetts in sending the message that while marijuana may be legal, the commercial industry is not welcome in their neighborhoods. These efforts in Illinois mirror the efforts undertaken by SAM in other states to help push back against Big Pot and protect communities from the dangers of increased drug use, crime, and drugged driving that go hand in hand with the establishment of marijuana storefronts."
While "legal" at the state level, about 85% of communities in California, 80% in Massachusetts, and 70% in Colorado and Michigan have voted to "opt-out" of legalization by prohibiting the establishment of retail outlets, cultivation, manufacturing, and/or delivery services for the marijuana industry. Other municipalities have adopted regulations that limit the locations, manner, and hours for marijuana industry activities in an attempt to protect residents, including young people, from the negative impacts of marijuana commercialization.
SAM Action, in coordination with its state affiliates, works to help local community efforts against Big Marijuana by keeping dedicated staff in place and distributing our comprehensive toolkit "Using Local Control to Push Back on the Marijuana Industry" to community stakeholders. The following are just two recent examples of our victorious efforts:
In one community in Michigan, South Haven, the town council voted to opt-out of legalization, but came under pressure from the marijuana industry to reverse the decision. SAM coalition members, using training received from SAM staff, were able to form a campaign to put the decision to opt-out on the ballot and win, banning pot shops, growing operations, and public consumption locations. This result was repeated in six other Michigan cities in November of 2019.
In California, bill AB 1356 would have overturned the local control that was promised in the original ballot initiative by forcing cities where 50% of the population voted in support of Prop 64 and force those localities to allow marijuana retail stores and cultivation. SAM California activated supporters across the state and as a result of a large coalition of local communities rising up to defend their rights, the bill was defeated at the end of January.
"The importance of the work of our affiliates in aiding local communities to enforce local control over the marijuana industry cannot be understated," continued Dr. Sabet. "We have also worked to help local stakeholders act preemptively in states such as New York and New Jersey in opting out of legalization to send the message to lawmakers that they do not want to see the marijuana industry peddling its super potent pot — much stronger than that of Woodstock — on main street. We will never stop standing up for the rights of everyone to breathe clean air and protect our communities."