Concerned Citizens and Elected Officials Join to Oppose Marijuana Legalization in Rhode Island, Launch Provocative New Ad Campaign Targeting Marijuana Legalization Proposals
 "Are We Sure?" Media Campaign Raises Questions About Unintended Consequences of Legalization, Lifts "Smokescreen" Created by Special Interest Groups Targeting Rhode Island
Contact: Anisha Gianchandani
+1 (703) 828-8182
[Providence, RI, March 9, 2017] –  Today, a group of concerned citizens joined elected officials from Rhode Island to oppose House Bill No. 5555 and Senate Bill No. 420, which would legalize the commercialization and sales of marijuana in Rhode Island. They also announced the launch of a provocative and bold ad campaign called "Are We Sure?" The ads, which will run in bus stops throughout Providence and online, highlight the unintended health and safety consequences of marijuana legalization and compare the lobbying effort of special interest groups targeting the Ocean State to those of the tobacco industry.
"Our painful national experience with 'Big Tobacco' should serve as a wake up call for every politician considering marijuana legalization," said former Rhode Island State Senator John Tassoni.  "We stand united in opposing legalization, and our new ad campaign poses questions many of our legislators aren't asking:  Are we sure we want to commercialize another addictive industry that the tobacco companies have been eyeing since the 1970s?  Are we sure we're ready for more stoned drivers on our roads?"
The opposition group, consisting of Ocean State Prevention Alliance, Whats the Rush, RI?, and SAM Action are opposed to legislation sponsored by Sen. Joshua Miller and State Rep. Scott Slater, which would allow out of state companies to sell and advertise marijuana.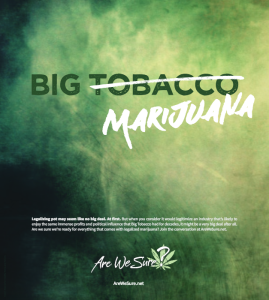 "This campaign is about having an honest conversation around legalized marijuana and the special interest lobby looking to cash in on the next addictive industry," said Patrick Kennedy, former Rhode Island Congressman and Smart Approaches to Marijuana (SAM) Honorary Advisor. "We're optimistic that Rhode Island residents will realize there's a smarter alternative to addressing drug-related incarceration than jump-starting a new industry that will go unregulated."
"This is a very complex policy decision that has long-lasting effects and unintended consequences, much of which are still unknown," said Rhode Island Attorney General Peter Kilmartin. "This is not a decision that should be made lightly. It must be made with a full understanding of the complications of regulating a new industry, its effect on our youth's development, what impact it will have on our future workforce, the public health implications, the creation of a sophisticated underground market, and what the impact will be on public safety through new criminal enterprises."
Marijuana – which has skyrocketed in average potency over the past decades – is addictive and harmful to the human brain, especially when used by adolescents. In states that have already legalized the drug, there has been an increase in drugged driving crashes and youth marijuana use. These states have seen a black market that continues to thrive, sustained marijuana arrest rates, and a consistent rise in alcohol sales.
The "Are We Sure" campaign is supported by a coalition of local officials in New England and Smart Approaches to Marijuana, a non-profit alliance of organizations and individuals dedicated to a health-first approach to marijuana policy in the United States.
News media requesting one-on-one interviews or printable versions of these ads can contact anisha@learnaboutsam.org.
Find the Are We Sure? website here.
###
 About SAM
Smart Approaches to Marijuana (SAM) is a nonpartisan, non-profit alliance of physicians, policy makers, prevention workers, treatment and recovery professionals, scientists, and other concerned citizens opposed to marijuana legalization who want health and scientific evidence to guide marijuana policies. SAM has affiliates in more than 30 states. For more information about marijuana use and its effects, visit https://learnaboutsam.org.