Don't Let Anyone Tell You Youth Marijuana Use Hasn't Gone Up in States Like Colorado
According to official statistics, Colorado shows increase in teen use since before legalization; 18-25 year old rate and overall 12 and older rate also up
Contact: Anisha Gianchandani
anisha@learnaboutsam.org
+1 (703) 828-8182
[Alexandria, VA] – Despite claims to the contrary by Colorado Governor John Hickenlooper, and other officials, the nation's only representative sample of people in U.S households released special Colorado state data finding increases in marijuana use.
Colorado past-month marijuana use among 12-to-17 year-olds saw a significant increase, from 9.82% to 12.56%, according to the most recent year-by-year comparison looking at pre-legalization data.
The National Survey on Drug Use and Health data also found that Colorado teens and adults use marijuana at a higher rate than the rest of the country. Colorado legalized marijuana in 2012 and implemented legal marijuana stores in 2014. At the same time, the sales of alcohol shows a slight increase.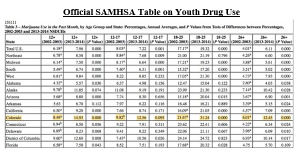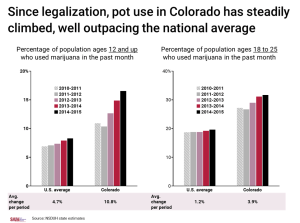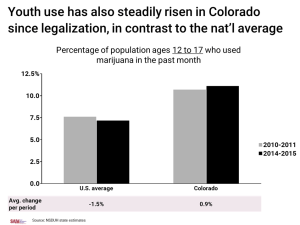 Last month, a group of scientists wrote to Governor Hickenlooper urging him to stop saying drug use has not gone up in the state. The Governor is apparently referring to the non-representative sample found in the Healthy Kids Colorado Survey (HKCS), which excludes both the second most-populous and third-most populous counties altogether (Jefferson and Douglas Counties, respectively). Also, the survey designers decided, without explanation, to set the threshold for statistical significance far higher, meaning that differences that would usually be statistically significant would not appear to be so under the new standard.
Second, a deeper dig of the HKCS results reveals distressing news. Youth use has actually risen statewide since legalization according the survey, at about the same rate tobacco use has fallen in that same timeframe. Moreover, this increase since 2013 halted a four-year trend of declining marijuana use-the turning point occurred exactly when the state legalized pot. Nonetheless, most press coverage has glossed over this point. Additionally, swings in youth use per the HKCS are quite large in some counties where pot shops are prevalent. For instance, the Summit/Eagle/Vail area reported a 90% increase in use among high school seniors in the last two years, and NW Steamboat/Craig showed a 58% increase in the same timeframe. Not only does this suggest serious problems in those areas, such wild swings in short periods of time also call into question the robustness of the data set.
Meanwhile, the toll of legalized marijuana continues to climb in Colorado and Washington. For example, the AAA Foundation reported that the percentage of fatal crashes in the state of Washington linked to drivers who had recently used marijuana more than doubled the year marijuana retail sales were authorized. Similarly, cases of marijuana poisonings are up 108% in Colorado after legalization, and up 206% among children ages 0 to 8 years old. (More data on these trends is available in SAM's recent report on legalization in both states.)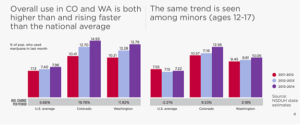 ###
About SAM
Smart Approaches to Marijuana (SAM) is a nonpartisan, non-profit alliance of physicians, policy makers, prevention workers, treatment and recovery professionals, scientists, and other concerned citizens opposed to marijuana legalization who want health and scientific evidence to guide marijuana policies. SAM has affiliates in 31 states.